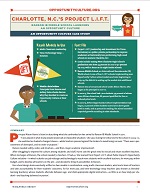 Our case studies provide in-depth looks at Opportunity Culture initiative sites, and vignettes consider specific aspects of an Opportunity Culture. Case studies also look at how other districts, charter schools, and other programs have begun using Opportunity Culture models or experimented with similar means of expanding teachers' impact on students and peer teachers.
Check back often for more case studies and vignettes.
We are also on the lookout for online and offline discussions in which the Opportunity Culture Principles could bolster dialogue among teachers, administrators, policymakers, and thought leaders about promising strategies for dramatically improving student learning.
If you are aware of organizations, sites, or conversations related to this work and the Opportunity Culture Principles that we should consider for case studies, please please contact us.
---
The following case studies were written in the early years of Opportunity Culture. Some Opportunity Culture terminology has been updated since then.
Recruiting in an Opportunity Culture: Lessons Learned briefly explains how an Opportunity Culture increased both the quantity and quality of applicants for teaching roles at schools that previously saw many positions go unfilled.
Ranson IB Middle School Launches an Opportunity Culture looks at the early days of Ranson's implementation of two Opportunity Culture job models—Multi-Classroom Leadership and Time-Technology Swaps—and how an Opportunity Culture improved its recruitment and retention of great teachers.
Ashley Park PreK-8 Launches Multi-Classroom Leadership and Blended Learning addresses why Ashley Park chose to implement an Opportunity Culture using Multi-Classroom Leadership and blended learning through a Time-Technology Swap, and how the early days of implementation helped the school retain its best teachers.
Metropolitan Nashville's Innovation Zone: High-Need Schools Help Teacher-Leaders with Paid, Yearlong Student Teachers looks at how three Nashville Opportunity Culture schools added a twist to their use of Multi-Classroom Leadership, with student teaching positions that place "aspiring teachers" in one school, usually serving the same class for a year, and pay them more than $15,000 with benefits.
In companion case studies Charlotte, N.C.'s Project L.I.F.T.: New Teaching Roles Create Culture of Excellence in High-Need Schools and Charlotte N.C.'s Project L.I.F.T.: One Teacher's View of Becoming a Paid Teacher-Leader, we explain how Project L.I.F.T. did the "truly different" things that its executive director, Denise Watts, knew her schools needed, by redesigning four schools using Opportunity Culture models and principles. The study details the steps these schools took and the challenges they faced as they prepared to kick off their Opportunity Culture models at the beginning of the 2013–14 school year. The accompanying study offers a Q&A with an excellent teacher on one design team, now set to take on one of the redesigned jobs as a multi-classroom leader.
In Leading Educators: Empowering Teacher-Leaders to Extend Their Reach by Leading Teams, we profile Anna Lavely of Kansas, who participates in Leading Educators' two-year fellowship aimed at developing the leadership of already-excellent teachers.

Rocketship Education: Pioneering Charter Network Innovates Again, Bringing Tech Closer to Teachers details how Rocketship, a pioneering, rapidly expanding charter school network, planned to refine its blended-learning model in the 2013–14 year. It intended to give teachers more control over the students' digital learning and hoped to further individualize the teaching. Watch for future updates to see how these changes do and don't achieve the network's goals for student learning.