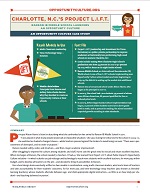 Our case studies provide in-depth looks at Opportunity Culture initiative sites, and vignettes consider specific aspects of an Opportunity Culture. Case studies also look at how other districts, charter schools, and other programs have begun using Opportunity Culture models or experimented with similar means of expanding teachers' impact on students and peer teachers.
Check back often for more case studies and vignettes.
We are also on the lookout for online and offline discussions in which the Opportunity Culture Principles could bolster dialogue among teachers, administrators, policymakers, and thought leaders about promising strategies for dramatically improving student learning.
If you are aware of organizations, sites, or conversations related to this work and the Opportunity Culture Principles that we should consider for case studies, please please contact us.
---
The following case studies were written in the early years of Opportunity Culture. Some Opportunity Culture terminology has been updated since then.