The efforts of human resources staff members are crucial to creating an Opportunity Culture. We provide tools the district, HR staff, and schools can use in working together to design Opportunity Culture schools, and recruit and select excellent teachers, team members, and paraprofessionals to support them.
We offer: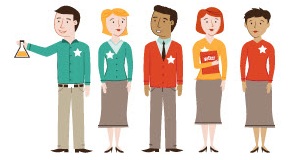 Opportunity Culture Toolkit: This toolkit guides districts and schools through all the steps of creating an Opportunity Culture. Broken into 7 phases, the kit starts at the very beginning, as a district secures the commitment of its leadership and sets an overall vision, through the district- and school-level  work involved in design, planning, and implementation, to evaluating and refining its Opportunity Culture.
Recruitment Toolkit: This four-step action planner and related tools take districts and schools through the major steps of a successful recruiting effort for Opportunity Culture schools. Opportunity Culture districts should begin recruiting each year ideally in November/December and no later than March, to attract a large pool of excellent candidates and capture their interest before they commit to other jobs.
Teacher and Staff Selection Toolkit: This 4-step toolkit walks users through the steps of selecting candidates for Opportunity Culture roles, from determining selection criteria through an advanced screening process. Districts that have created an Opportunity Culture have seen a surge of applications; this toolkit helps leaders adapt to a higher volume of applications and the chance that offers to become highly selective in hiring.
Evaluation Guide: This 5-step toolkit gives schools, districts, and states what they need to create an evaluation system aligned with Opportunity Culture models and career paths, helping teachers improve and advance their careers while helping more students. It covers evaluation redesign, evaluation content, evaluation process, and critical uses of evaluation.