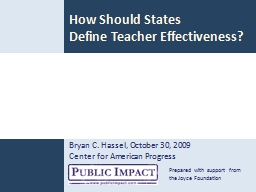 Full Report [pdf]
As evidence continues to pile up about the central importance of effective teaching, states nationwide are rethinking how they define and measure the effects individual teachers have on educational outcomes.
In this slide deck, Public Impact sets out some guiding principles for states entering this design process, including:
defining a teacher's "effect" as the product of her level of effectiveness and her reach: the number of students she affects;
defining teacher effectiveness based on student learning outcomes and behaviors linked to outcomes;
 using rigorous research about top teachers – not focus groups or expert opinion – to determine what behaviors to include in the definition;  and
examining deeper competencies – such as achievement orientation – not just more easily observable teacher behaviors.
Help us spread the word...