"The key moment for me was to put the three pieces of the puzzle together—strong teachers, developing teachers, and students—and to see how all parts could benefit. Then I knew—this should be something exciting for everyone."
—Multi-Classroom Leader (MCL) Romain Bertrand, Ranson IB Middle School, Charlotte

"I'm very much immersed in the teaching, and in the work on the ground.…We're in the mix, we're there—it's all hands on deck."
— Multi-Classroom Leader Lindsey Nelson, Bailey STEM Magnet Middle, Nashville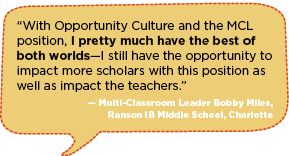 "Now I have my wings, and everyone's up under my wings."
— Multi-Classroom Leader Gaston Williams, Churchwell Museum Magnet Elementary, Nashville
"The increase in pay makes you feel professional. It makes you feel like somebody values your work."
—Multi-Classroom Leader Courtney Derrick, Ashley Park PreK–8, Charlotte
"It is exciting to have that many students tied to me."
— Multi-Classroom Leader Jennifer Bambrick, Thomasboro Academy, Charlotte
"I kind-of feel like a classroom teacher, but I have more bang for my buck. I'm making a bigger impact."
— Multi-Classroom Leader Carolyn Potts, Allenbrook Elementary, Charlotte
"What makes me most enthusiastic about OC is the ability to actually see the achievement gap close."
— Multi-Classroom Leader Samantha Reichard, Ranson IB Middle, Charlotte
"I love being accountable for 371 scholars. I love it because what I want to see happen in five years is for 371 scholars to walk across the stage and receive their diplomas…and now I know that I'm having a direct impact on making sure that they actually reach that goal."
— Multi-Classroom Leader Ashley Jackson, Ranson IB Middle, Charlotte
"My days are exciting! …If there's something I'm doing that's working, I want to be able to share it. …Now, I can share it with everybody."
— Multi-Classroom Leader Vanessa Thomas, Churchwell Museum Magnet Elementary, Nashville
"The impact I'm seeing is phenomenal. I'm seeing learners that are really becoming truly 21st century learners."
— Blended-Learning Teacher Jessica Trahan, Allenbrook Elementary, Charlotte
"I really like the blended-learning position. I love the opportunity to reach more students and in creative ways."
—Blended-Learning Teacher Chris Moses, Allenbrook Elementary, Charlotte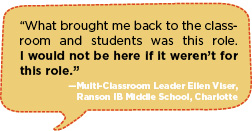 "This model is great because on my best day I can go get advice, and on my worst day I can go get advice, without judgment. …You can go to your MCL and she's right there to pick you back up."
— Team Teacher Jayme Hubbell, Buena Vista Elementary, Nashville
"The best part of working in an Opportunity Culture is the support. I mean, it's just unbelievable."
— Team Teacher Sequeria Lawler, Ranson IB Middle
"It's given me an incredible amount of support. I have a lot of friends who are also in their first year teaching…I just get so much more feedback and support."
— Team Teacher Robin Malloch, Ranson IB Middle, Charlotte

"I love our culture on the third floor. We are open with each other. … . We keep it all about the students. This is to make sure we have accountability across everyone. There's a communal atmosphere. We call it heaven on the third floor."
—Multi-Classroom Leader Joe Ashby, Buena Vista Elementary, Nashville
"Support is a huge piece of this—it makes a big difference! I feel very supported this year, more so than last year. I love how [my multi-classroom leader] can co-teach with me and also work with students."
—Team Teacher Amy Kramer, Buena Vista Elementary, Nashville
"I think the sky is the limit. I never would have thought that about teacher salary—usually, it's, 'I'm going to cap out soon as a teacher. I do it because I love it, etc.' But to actually think that I could be paid what I'm worth is the best feeling in the world. Teachers are so underappreciated and devalued, especially ELA teachers."
—Master Teacher Tiffany McAfee, Touchstone Education, Newark, N.J.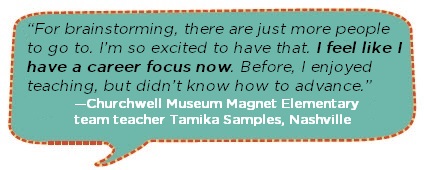 "The MCL structure improves my teaching. They tell me where I need to improve. They can say, 'That looks good, but work on this.' The more I know, the better I am. Any time I have a question, I can call [my multi-classroom leader] and ask him a question. I can call him at 9 p.m., and I can't do that with a principal. I'm comfortable with him. I can say I don't know and not feel judged."
—Team Teacher Ila Blevins, now a Multi-Classroom Leader, Buena Vista Elementary, Nashville
"I love [being a multi-classroom leader] because I'm able to model things. Teachers can come watch me as I teach. I get to preach what I teach, I get to work with students, they get a double dose, and with a person who has more experience, teachers feel like they get additional service. That brings a whole new dimension to how they see me. If they see I can have success managing their students with the same strategies I'm telling them to use, they know it can work. It's also relevant to them. They also trust it. A big thing with teachers is trust. Someone in the trenches makes it much more useful. They trust my feedback and value it. And they see it in action."
—Multi-Classroom Leader Joe Ashby, Buena Vista Elementary, Nashville
"This position allowed me to have a comparable salary to [other jobs I've been offered outside the classroom], but also stay with kids, which is where my heart is and where my passion is. It's keeping me in a bunch of classrooms, which is great."
—Multi-Classroom Leader Kristin Cubbage, Ashley Park Elementary, Charlotte, in an interview with Charlotte's WFAE.
"My goal was to do informal observations once a week. The formal ones we did once a month. I tried to stick to that as closely as I could. I think the teachers really like the informal observations and they liked the feedback. When I couldn't do it consistently, they were asking for me to come back in and observe. They wanted it."
—Multi-Classroom Leader Kelly Aldridge, Bailey STEM Magnet Middle School, Nashville
"I think the MCL role is different (from a coach or facilitator) because the MCL is there the majority of the time. … The MCLs give you daily support. They're not just there for the observation, but they're there from the beginning to work with you."
–Team Teacher Art Taylor, Bailey STEM Magnet Middle School, Nashville
"For my students, [my MCL] brings versatility. She teaches another way, and she can come in and basically revise the way I'm teaching. … All the learning strategies and experience have been handed down to me throughout the year."
—Team Teacher Andrew Johnson, Buena Vista Elementary, Nashville
What Administrators Say
"The teacher is the cornerstone of all this work."
—Area Superintendent Denise Watts, Charlotte, in Project L.I.F.T. and its Opportunity Culture initiative video
"This is the new frontier and this is the way forward. I can speak for my school only—this has been absolutely the it factor when you look at what has changed the game and changed learning for kids.
—Principal Christian Sawyer, Bailey STEM Magnet Middle, Nashville
 "We are really seeing lots of gains in our scholars and in their growth and in their achievement."
— Principal Jeanette Reber, Ashley Park PreK–8, Charlotte
"If there was one thing I knew, it was that I'd tried everything out there. I was definitely willing to take big risks with new ideas, because what we were doing just wasn't enough."
—Zone Superintendent Tonya Kales, 18-year teacher and former principal at Ashley Park Pre-K–8, Charlotte 
"I feel like we're on the cutting edge. We're not just working on some flash-in-the-pan experiments in education. [The Multi-Classrom Leadership model] inspires people and makes sure we keep the best teachers in the classroom. This gives them leadership and a bump in pay and recognition."
—Assistant Principal Derek Sanborn, Buena Vista Elementary, Nashville
"We got a better bucket of applicants because of the MCL model. Teachers want to collaborate. Teachers seek this model."
—Principal Michelle McVicker, Buena Vista Elementary, Nashville
"Before Opportunity Culture…there were 28–29 first-year teachers in this building, and we don't have that anymore. We have teachers with experience, teachers [with] a proven record."
— Principal Jan McIver, Thomasboro Academy, Charlotte
"It's not the technology that changes anything. It's the people who use it. Now we can give the right people the right tools they need to accelerate learning."
—Principal Allison Harris, Ranson IB Middle School, Charlotte
What Former Teachers Say
"I'm so excited about the launch of Opportunity Culture into Charlotte-Mecklenburg Schools—for the development of all of our teachers and for addressing the achievement gap. I might be still teaching today if I had had an experience like this!"
—Former teacher Missy Sherburne, now the chief partnerships officer, DonorsChoose.org
*Job titles vary from school to school; here we use the Opportunity Culture titles that most accurately reflect the person's role at the time of the quote.