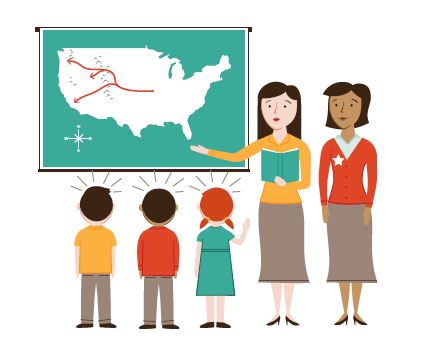 Opportunity Culture roles are new territory for many teachers and principals, even ones who've excelled in traditional classrooms and schools. And every educator can use periodic refreshers on the elements of instructional excellence. Training can help. Here we provide our own free training tools, plus links to others' materials, for Opportunity Culture teachers and staff and others in similar roles.
Multi-Classroom Leader Training Sessions: This free kit of training and development sessions is intended to cover three intensive summer days plus sessions throughout the year focused on issues likely to arise at specific points. Each Multi-Classroom Leader training session includes a PowerPoint presentation with embedded facilitator's notes, handouts that can be completed electronically or printed, and information about additional materials for activities (where applicable).
Expanded Impact & Blended Learning Teacher Training: coming soon!
Reach Associate Training Sessions: coming soon!
Aspiring Teacher Resources: coming soon!
Principal Training for leading teachers who extend their reach: coming soon!
For more resources and links to these and training by other providers, organized by topic, see our Instructional Leadership and Excellence pages.
Contact Public Impact if you would like help organizing or facilitating your training. We include outstanding, experienced Opportunity Culture teachers, staff, and principals from your local area or our national network to help make preparing for and excelling in Opportunity Culture roles engaging and authentic. Trainings are fully aligned with the Opportunity Culture roles to make the best use of training time.