Print page
If you are an excellent teacher, or one who aspires to excellence, you probably did not choose teaching for its pay or career advancement opportunities. You teach because you revel in helping students learn and grow—academically, socially, and emotionally—so they can achieve success and joy. Perhaps you had inspiring teachers who set you on this path. Or perhaps you want to improve things for a new generation of students.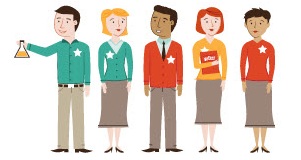 Whatever brought you here, welcome! You'll find resources across this website to help you and your school create an Opportunity Culture for all teachers and students.
Done right, an Opportunity Culture has much to offer you—career paths that provide you and all teachers with career advancement opportunities that let teachers stay in the classroom, for more pay, within available budgets. An Opportunity Culture using most of our models would let you work in teams led by excellent teachers, with collaboration time built into the school day. In an Opportunity Culture, excellent teachers can be responsible for more students' learning and help good teachers excel by learning on the job while contributing to excellent outcomes.
You'll get sustainable, well-paid career advancement, rigorous development on the job, and whole careers' worth of engaging work—and your students will get the consistent excellence they need, increasing their lifelong prospects.
On this page, we've gathered just a few helpful items designed specifically for teachers:
An Opportunity Culture for Teaching and Learning: Introduction shows excellent teachers and those aspiring to excellence the inspiring possibilities of an Opportunity Culture and how teachers can have the well-paid, empowered profession they deserve—while helping many more students succeed.
Opportunity Culture Voices on Video: Hear from Opportunity Culture teachers themselves, plus principals and district leaders, on why they love their jobs and think an Opportunity Culture is the "it factor" in changing the game for teachers and students
A new brief by Public Impact Co-Directors Emily Ayscue Hassel and Bryan C. Hassel which updates their vision of an Opportunity Culture, and explains how extending the reach of great teachers can start a virtuous cycle of excellence and higher pay for all teachers—An Opportunity Culture for All: Making Teaching a Highly Paid, High-Impact Profession

A presentation about what teaching and learning could look like in an Opportunity Culture—Slides with Speaker Notes, Slides Only
A brief explaining Six Ways to Pay All Teachers More Within Budget—not written specifically for teachers, but helpful to understand how these new models can pay you more
Case studies: Public Impact is publishing a series of case studies to provide in-depth looks at how districts, charter schools, and other programs have begun using Opportunity Culture models or experimented with similar means of expanding teachers' impact on students and peer teachers. We will also analyze how well the programs stack up to the five Opportunity Culture Principles, which call for reaching more students with excellent teaching, higher pay, sustainable funding, job-embedded development opportunity, and authority and accountability aligned with each teacher's responsibilities.