A Guide for Districts and Schools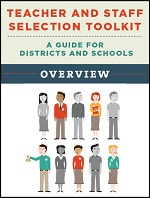 Selection Toolkit [web page]
This toolkit helps district, school, and charter management organization leaders select teachers and staff members for the school models of an Opportunity Culture. Districts that have created an Opportunity Culture have seen a surge of applications; this toolkit helps leaders adapt to a higher volume of applications and the chance that offers to become highly selective in hiring. The kit helps leaders screen and prioritize candidates for these new roles, which require new behaviors and skills.
For ease of use and downloading, this toolkit walks users through the steps of selecting candidates for Opportunity Culture roles. Begin with the Overview, which explains the screening process, followed by full explanations of the individual steps. Each step includes a set of considerations, action steps, and links to relevant tools and resources. Begin using the Selection Action Checklist tool as soon as you begin this toolkit, and use it throughout the process

Help us spread the word...