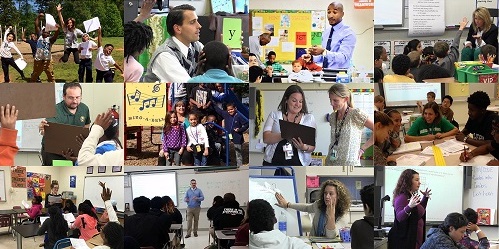 "How many teachers are out there struggling daily because of lack of support?  How many burn out because they've tried all they know?  How many leave our profession early because they can't do it on their own any longer? How many kids suffer because they have access to only one teacher? How many students are falling more and more behind because they have zero control over their educational trajectory?  We need a change; more important, our students deserve change.
"Opportunity is knocking on our traditional educational doors. The question is: Will we answer? Teachers, administrators, policymakers: It's time. Open the door."
That was Charlotte Multi-Classroom Leader (MCL) Kristin Cubbage, who kicked off the Opportunity Culture series on Real Clear Education a year ago and wrapped it up this month, extolling what made her advanced role so valuable, and calling for more Opportunity Culture roles. Indeed, the Opportunity Culture initiative has continued to spread.
Cubbage was part of the first cohort of Opportunity Culture Fellows—pioneering teachers in Opportunity Culture schools who stepped up to share their views nationally, and who wrote this series, with accompanying videos, explaining what Opportunity Culture models look like in their schools and what they think about these highly accountable positions:
Help us spread the word...