Step 4: Conduct Advanced Screening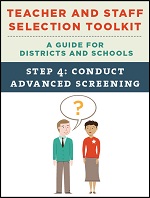 Click on the icon at right to view a PDF of this step.
The advanced screening of Step 4 includes the critical behavior event interview districts should conduct, along with other optional ways to screen candidates. It also provides brief guidance for a background check that can be done during this step or any of the previous steps.
Tools used in this step are listed below. Click on the tool name to download a Word version of each tool. 
Materials for hiring and developing teachers and principals for turnaround schools are available on PublicImpact.com.
Tools