Step 3: Conduct Initial Screening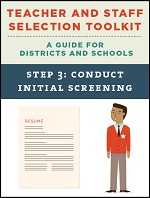 Click on the icon at right to view a PDF of this step.
All school and district leaders will want to pre-screen candidates to determine their basic fit and save time by screening out candidates who are ill-suited for these demanding roles. The district will need to determine the screening methods; criteria; number of "buckets" used to sort applicants in each screening method/stage; who will screen at each stage; and the specific language to use in online application forms.
Tools used in this step are listed below. Click on the tool name to download a Word version of each tool.
Materials for hiring and developing teachers and principals for turnaround schools are available on PublicImpact.com.
Tools