Step 2: Begin Recruitment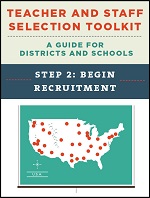 Click on the icon at right to view a PDF of this step.
In Step 2, users begin the recruitment process, using the Recruitment Toolkit for a full guide to the active recruiting necessary to attract great candidates.
Materials for hiring and developing teachers and principals for turnaround schools are available on PublicImpact.com.