Step 1: Determine Selection Criteria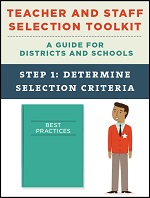 Click on the icon at right to view a PDF of this step.
In this step, users determine job descriptions and the behavior event competencies to use for each job related to the school models available on OpportunityCulture.org/reach/school-models. These materials are for six of more than 20 Opportunity Culture models, but the jobs and competencies included cover most of the other school models, as well.
Some schools may combine school models, and in turn will need to alter the job descriptions and competencies accordingly.
Tools used in this step are listed below. Click on the tool name, Job Description, or Competency Definition to download a Word version.
Materials for hiring and developing teachers and principals for turnaround schools are available on PublicImpact.com.
Tools
Job Descriptions

Paraprofessional Job Descriptions

Competency Definitions and Levels