Despite myriad efforts to spur states, districts, and schools to do better, our nation has not yet made the educational changes needed as quickly as our students deserve.
Policymakers must take bold, will-inducing actions to reach every child with excellent teaching.
Dramatic change in U.S. economic and social structures has historically occurred either because of readily available financial rewards for success or because the government has given power to the people in the form of civil rights.
We propose that policymakers deploy both of these, rewarding schools and teachers financially for achieving high levels of student growth with more children, and providing a new right to excellent teachers.
Declare a new civil right: access to excellent teachers
Civil rights shift power from government to the people and obligate the government to enforce the right. The U.S. Congress could create such a right at the federal level, but state policymakers do not have to wait.
Policymakers should enact policies that:
Create a new civil right for all students to excellent teachers, or
Enforce existing civil rights laws with an excellent-teacher remedy.
Policymakers should require schools and districts to put a consistently excellent teacher in charge of instruction for:
any student who did not make grade level in the previous school year,
any student who did not make at least a year's worth of growth in any designated subject in the previous school year, or
any student who has not been assigned an excellent teacher in a designated subject during the prior two school years.
For each of these groups, the excellent teacher must be fully accountable for the student's learning outcomes, in person, online, or in combination.
If schools and districts do not provide such a student with an excellent teacher, the student should be empowered to take legal action to enforce the right.
In some states, it may be possible to enforce existing rights with a similar remedy.
Report and reward excellent teachers' reach
We must use a new formula to define a teacher's impact: Student Outcomes x Number of Students Reached.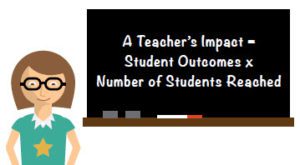 Student Outcomes = how much a teacher's students learn, at a minimum measured in student growth.
Students Reached = how many students receive instruction delivered or directed by the teacher. We need to know not just the number of excellent teachers a school has; the critical figure is the number of students they reach successfully. State or federal policy could induce districts and schools to use this formula both by changing teacher-quality reporting requirements and by rewarding successful reach extension financially.
Policymakers should enact policies that:
Require reporting of the number of children in different subgroups reached by teachers of differing prior effectiveness. These teachers must be the ones who deliver or direct instruction, the adults who are fully accountable for outcomes for each child.
Pay more per pupil for achieving student growth that is as good as that produced by today's teachers in the top 25 percent. Weight the rewards to pay more for learning growth by disadvantaged children, up to and beyond basic proficiency.