Students spend approximately 25%–50% of their in-school time engaged in personalized digital learning, replacing a portion of excellent, in-person teachers' whole-group and lecture instruction chosen by the teachers. Students rotate on a fixed schedule between digital instruction and face-to-face learning with the teacher. To extend their reach, excellent teachers use freed time to teach additional classes, focusing primarily on personalized and enriched portions of instruction. During digital learning time, lab monitors supervise students, and tutors may work with students individually and in small groups. Teachers, monitors, and others collaborate as a team. Reach Effects: Excellent elementary teachers reach approximately 25%–100% more students, varying with the percentage of digital instruction time. Excellent secondary teachers reach up to 100% more students. Secondary teachers may extend their reach in any number of class periods, ranging from just one class to all of their classes, with limits based on the feasible student load and the percentage of students' digital time.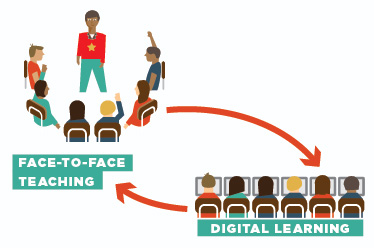 Examples of schools and school networks extending excellent teachers' reach using rotation models include Rocketship Education, KIPP Empower, Carpe Diem Collegiate High School and Middle School, Ingenuity Prep, Charlotte, N.C.'s Project L.I.F.T., and Foundations College Prep.
See our case studies of this or similar models in action:
Ranson IB Middle School Launches an Opportunity Culture looks at the early days of Ranson's implementation of two Opportunity Culture job models—Multi-Classroom Leadership and Time-Technology Swaps—and how an Opportunity Culture improved its recruitment and retention of great teachers.
Charlotte, N.C.'s Project L.I.F.T.: New Teaching Roles Create Culture of Excellence in High-Need Schools details the steps four schools took and the challenges they faced as they prepared to kick off their Opportunity Culture models at the beginning of the 2013–14 school year.
Rocketship Education: Pioneering Charter Network Innovates Again, Bringing Tech Closer to Teachers details how Rocketship, a pioneering, rapidly expanding charter school network, planned to refine its blended-learning model in the 2013–14 year. It intended to give teachers more control over the students' digital learning and hoped to further individualize the teaching. Rocketship began as a Rotation + Elementary Specialization model with an academic dean to oversee teachers' instructional training and improvement. In its effort to refine the model, the network tried using a flex model in some schools and eliminating the dean position. Future changes are anticipated; watch for updates to see how these changes do and don't achieve the network's goals for student learning.
More detail on these models:
 In-Person Rotation (Elementary) School Model
 In-Person Rotation (Secondary) School Model
 In-Person Rotation + Subject Specialization (Elementary) School Model
 Financial Planning for Time-Technology Swap—Rotation:  Describes how teachers in this school model may earn more, sustainably, with calculations of savings and costs showing how schools could increase teacher pay up to 41%, without increasing class sizes and within existing budgets. See more about this model here.
 Teacher and Staff Selection, Development, & Evaluation Toolkit: This toolkit includes job descriptions, competencies, and companion tools that may be used to select, evaluate, and develop teachers and staff. These materials are built for six of the more than 20 school models described here. The jobs included in the toolkit cover most of the other school models as well. Some schools may combine school models, and in turn will need to alter the job descriptions and other materials accordingly. Schools must adapt these materials to fit each school setting and to incorporate additional selection, evaluation, and development priorities.
Example Schedules for Rotation Models
These schedule variations show how top teachers can reach more students with blended learning—with as little as about an hour per day of digital learning time per student.
 Schedule Example—1/4 Time in Digital Learning Per Subject—Elementary Rotation with Team Teaching

 Schedule Example—1/2 Core Subject Time in Digital Learning—Elementary Rotation, 4th and 5th Grade

 Schedule Example—1/4 Time in Digital Learning Per Subject—Elementary Rotation + Specialization

 A Day in the Life—Elementary Subject Specialization + Time-Technology Rotation

 Schedule Example—1/2 Time in Digital Learning Per Subject—Secondary Rotation
Public Impact encourages the sharing and copying of these materials. Please include "©2012 Public Impact" and "OpportunityCulture.org" on all pages where material from these documents appears.
View table with links to all school models