Contact us for guidance using free materials to implement in your school or district.
In fall 2011, Public Impact announced the launch of the implementation phase of our Opportunity Culture initiative, with funding from The Joyce Foundation, Carnegie Corporation of New York and the Bill and Melinda Gates Foundation.
In this initiative, Public Impact is:
To contact us about this initiative, please visit our feedback page.
About the Initiative
Public Impact asked a simple question: "Will our nation's bold efforts to recruit more top teachers and remove the least effective teachers put an excellent teacher in every classroom?" We ran the numbers and discovered the disappointing answer: No. But that's not the end of the story.
With a change in schools' strategies, we realized, nearly all classes could be taught by achievement gap-closing, bar-raising teachers—in a mere half-decade. That change comes through building what we call an "Opportunity Culture." Public Impact has now launched the implementation phase of its Opportunity Culture initiative.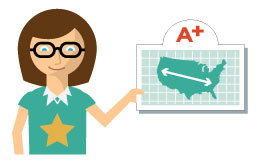 To bring an excellent teacher to every child, we must "extend the reach" of our top teachers—those in the top 20 to 25 percent, who produce well over a year of learning progress in their students—and provide all teachers with career advancement opportunities that don't require leaving the classroom.
Extending their reach involves redesigning teachers' roles and using technology to help those top teachers reach more students, for more pay, but within available budgets. In an Opportunity Culture, an excellent teacher will always be accountable for every student's learning, and teachers' pay will be commensurate with the students they reach. All teachers and staff have the opportunity, in every role, to develop to their full potential through collaboration with and leadership from excellent teachers.
In most of the models, teachers work in teams led by excellent teachers, with collaboration time built into the school day. Excellent teachers can be responsible for more students' learning and help good teachers excel by learning on the job while contributing to excellent outcomes.
This isn't just a vision anymore: It's a reality. Teachers are leading the way in creating Opportunity Culture-style schools across the country, and teachers at the pilot schools have responded enthusiastically to new opportunities to lead teams and learn, as team members, from outstanding peers.
Learn more about school models for extending the reach of excellent teachers, making an Opportunity Culture possible.
Contact us for guidance using free materials to implement in your school or district.