Overview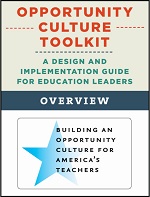 Click on the icon at right to view a PDF of this overview.
This toolkit helps schools and districts ensure that all students have access to excellent teachers and teaching teams, consistently. Begin with the Overview for a crucial Introduction to an Opportunity Culture and the school models and career paths at its foundation–information that may be useful to return to throughout the process of building an Opportunity Culture.
The overview, which you can download as a PDF, also includes a companion tool, Opportunity Culture District Action Steps, illustrating the major steps in the design process. For a complete list of tools for schools and school districts, click here. If you would like to see Human Resource tools, click here. For Budgeting tools, see here.
Tools for Districts