Teachers and staff in the 2014–15 Opportunity Culture (OC) sites answered a series of questions in early 2015 about their Opportunity Culture schools and roles. Teachers and staff in some OC schools answered a broader series of questions designed to allow districts to see how they can improve.
In future years, we want all teachers and staff in Opportunity Culture schools to have the chance to tell us what they think on all questions. We will privately share site-by-site data with districts and major funders to show how OC sites compare, and help administrators identify where they need to improve. We will publicly share what Opportunity Culture educators nationwide think about OC roles and OC school culture, so that the public can see the benefits of and improvement opportunities for the Opportunity Culture initiative.
Teacher and Staff Perception Survey Responses
Teachers indicated their level of agreement with the first six statements in Figure 1, selecting from a scale that included "Strongly Disagree," "Disagree," "Agree," and "Strongly Agree." Educators in all districts except Syracuse City Schools also indicated their level of agreement with the other four statements in Figure 1.
Figure 1. Percentage of All Teachers, Staff and Multi-Classroom Leaders (MCLs) Surveyed in OC Schools Who Agreed or Strongly Agreed with Statements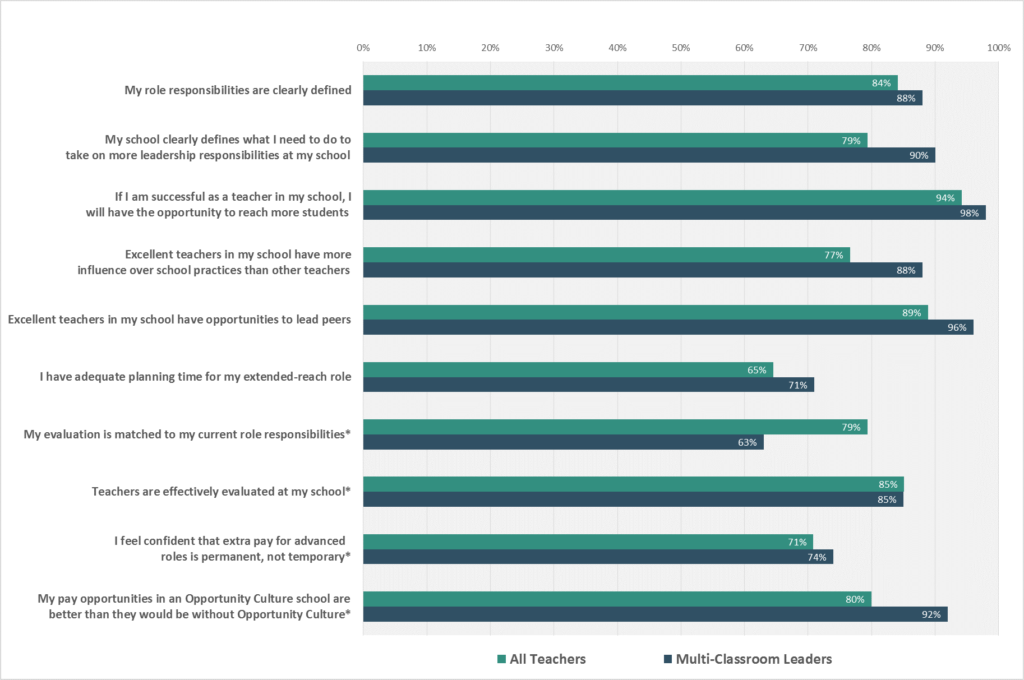 *Question not included in Syracuse survey
Note: Samples and response rates differed by district. See Figure 2 for details.
Observations
Overall: While the majority of sites have room for improvement on most measures, adequate planning time is a common improvement need. Educators across districts may also benefit from clearer tools and training to enable them to use their planning and collaboration time well. See the Lessons report for additional improvement needs identified by qualitative research.
District differences: Adequacy of planning time, increased pay satisfaction, and how well teacher evaluation matches actual role responsibilities varied substantially among districts. Though we do not show district-level data here, individual districts are being informed of areas in which their results were markedly better or worse than OC schools nationally.
Role differences: Variations in responses among teachers in different roles were also notable: Multi-classroom leaders responded more favorably than other educators on most items. Evaluation matched to their roles is a notable exception, indicating that evaluation of multi-classroom leaders needs improvement.  Staff members other than multi-classroom leaders need more role clarity, transparency of selection criteria for advanced roles, visible signs that advanced teachers are influencing school-wide practices, and information about how pay supplements are sustainably funded.
In these early years of Opportunity Culture implementation—when both Public Impact and schools are figuring out what works best for teachers and their students—we view these teacher perceptions as just the beginning of a positive change. Public Impact is committed to advising districts, schools and implementation partners to improve Opportunity Culture implementation so that all teachers can excel in their instruction, advance in their careers, earn substantially higher pay, and ensure that all students have access to excellent teaching.
Figure 2. Survey Sample and Response Rates for OC Teachers and Staff

Note: There are two implementation sites within Charlotte-Mecklenburg Schools (CMS) in North Carolina.  Project L.I.F.T., an innovation zone within CMS, began implementation in the 2013-14 school-year.  Additional schools in CMS started a separate implementation effort with a new set of schools in 2014-15.