Published on The 74, June 19, 2017, by Multi-Classroom Leader Maina Cisneros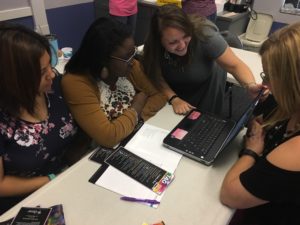 For years, my school, Washington Elementary in Big Spring, Texas, struggled to meet all our students' literacy needs. We group students in tiers, as in the "Response to Intervention" model, but each year we were still left with extremely large groups in Tier II and Tier III — struggling students and chronically struggling students. Each year, we tried to reinvent the wheel to increase our student success, but to no avail — until last year.
Most of Washington's students come from low-socioeconomic-status households. Several have grandparents or someone other than parents raising them, several come to school hungry and dirty, many have parents who work multiple jobs and cannot help with homework, and quite a few have at least one parent in prison. When small children are forced to deal with situations like these, school often takes a back seat. Nevertheless, my co-workers and I must make sure they receive a quality education.
That's when I saw the value of my new role as a multi-classroom leader. As an MCL, I no longer had my own classroom all day; instead, with the time to co-plan, collaborate, co-teach, and track and analyze students' data, I could lead my teaching team in using strategic student placement and monitoring to finally find success. [Read more…]
Help us spread the word...